Hello again everyone!
As promised, piccies!!
Today I went to town and picked up a few supplies that I was needing over the next couple of days. Came home and did nothing but painting and staining! Here's the result: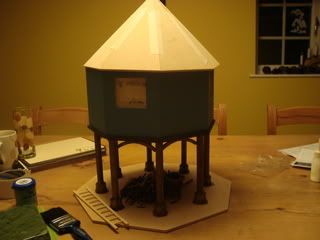 I apologise that you can't see the true colours very well. I will take the next lot of pictures in the day light tomorrow so you can see more clearly. If you click on the photo, it'll bring it up a bit bigger and it's a bit clearer to see the colours.
I wanted to get the outside beams put on, but it got too late. The windows are taped up so I didn't get paint on the inside, I'm very clumsy with paint!
Tomorrow I plan on painting the inside, adding the beams and hopefully I might be able to do the downstairs area.
I hope you like the progress so far, I'm sorry it's a very short post but it's late now and I'm very tired!
See you tomorrow! :)