Well good afternoon!!
Hope you're all okay and having a good Sunday!
Today was the fair in Woodhall, I call it Petwood but it's actually Lyndsey Fairs. I call it Petwood because it's held at the Petwood Hotel.
Anyways, enough rambling - here's some photos of the goodies I picked up!
I've split them into 3 different photos.
The first photo shows items I've bought that are purely for creative purposes. I'm not entirely sure what I'm going to do with these things yet, but they were bargains so I grabbed them quick!
The second photo shows items that I've bought to finish The Olde Post Office. The post office is not completely finished, I'm still buying odd bits and bobs. It's slow work, the finishing touches, but these little bits were perfect and they were also bargains, so I grabbed them before anyone else could! There's also some glittery pipe cleaners there that I will use as tinsel for the Christmas tree when I start decorating the house for Christmas!
The last photo, the exciting one! I always save the best till last.. Items I've bought for the bakery! The image shows the tiles that'll I'll be using on the roof, the alley and inside the bakery. There is also a few bits there that I just had to have because I thought they looked great! I adore the little bread pot!!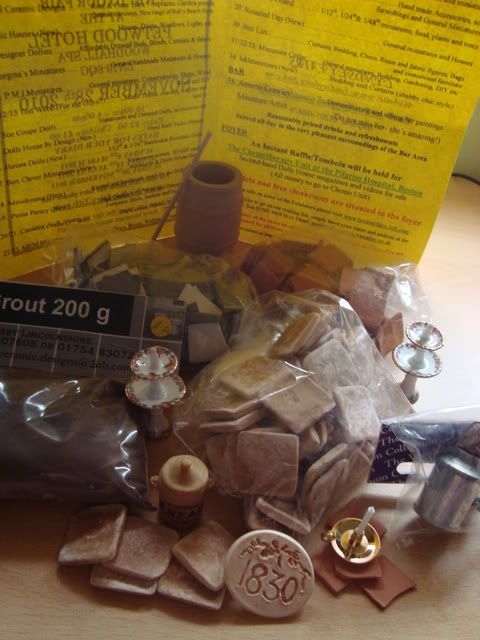 So there we go, my new treasures. I'm going to dash off now to generate some ideas for what to use the creative items for, and I am going to give these new items a home!!
Happy Mini-ing!!
ShellbyFay
xx