This is the first Christmas I've had to be given the oppertunity to decorate and prepare my dolls house for the winter celebration! This week I've been eagerly making plans for decorating The Olde Post Office and drawing up plans for the new building work that will be done on the Bakers Dozen.. yes, I did say "
new building work
." You read it correctly.
Hopefully, fingers crossed, if the weather is dry tomorrow, my dad and I will be spending the day outside cutting pieces of wood and preparing the new part that'll be added onto the bakery..
so watch this space
!!
So this week I've started the process of preparing The Olde Post Office for Christmas. I've decided that the kitchen, although not fully completed yet (will be for Christmas do not panic!), it'll be fully decked out with a Christmas feast on the table, garlands here there and everywhere and food keeping warm on the aga. I set to making a dent in the food making, and here's a photo below of what I've managed to make so far.
(Apologies for the dreadful lighting. It's only 5.45 here and it's already very dark and the lighting is not the best in this house.)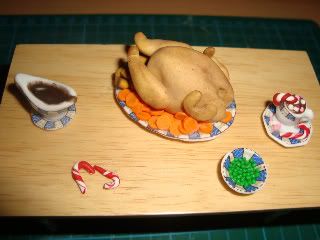 You can see in this photo the gravy boat, a couple of candy canes, some peas, a hot chocolate with a candy cane and marshmellows (i got the tutorial for the hot chocolate from one of the AIM magazines, can't remember which one though) the carrots with the turkey and if you look closely at the back of the turkey you can see a couple of roast potatos poking round the corner there. There is also some brussel sprouts round the other side of the turkey, but you can't see those. I will take a better photo when I've got the whole Christmas feast completed.
Hope you're not all suffering too badly from the horrible, cold weather and that you are looking forward to the festive season!
Happy Mini-ing
ShellbyFay
xx