Good evening everyone!! It's been a while since I last posted, so I thought I'd share some news and a creation with you.
Please, allow me to introduce you to Greg! Greg is an incompleted doll that I sculpted a couple of days ago, but put together today. I'm not sure when I'll be able to make some clothes for the poor chap, so I thought I'd show you a pic of him now anyway. Not bad for a first attempt I thought. He looks a bit grumpy though. I took the hints and tips from everyone I spoke to about attempting to make my own doll, and they all said my first attempt would come out like an ugly old man - they were right!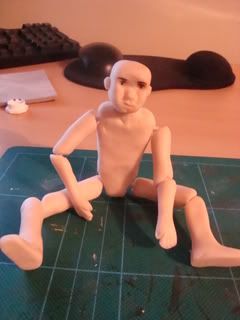 Now onto the news!! Work is about to begin on the Bakers Dozen; my long awaited second project! I have no new photos to show you, but you can see a picture of the Bakers Dozen in it's bare form by clicking on the Bakers Dozen tag below this post, or by going through my archive and visiting my very first couple of posts where I introduced you to my dolls houses. I did try putting up a link, but it's refusing to work tonight. Apologies for this.
So yes very exciting stuff. My dad is kindly building on a extra part to the bakery for me, which he'll do as soon as I can get the correct wood and the supplies I've ordered have arrived for him. I told him it had to be done before the local fair which is only 28 days away! So I promise over the next 28 days, I am going to aim to show 28 new creations! And Greg is the first one :D
Happy Mini-ing
ShellbyFay