Hello everyone!
I am sooo sorry that I haven't posted up any creation pics that I promised I would post up everyday for 28 days until the local fair. I think I've missed two nights now, so that's two creations to show you plus todays... Well my excuse is this: the annoying part that real life plays when you really want to get things done, you suddenly become busy needing to do things that, apparently, are more important than miniatures... humph.
So I'll show you these first of all: The donuts. Now I promise you, hand on heart that I intended to show you these on the second night of my promise.. but I lost them. I honestly lost all the little donuts. Well they turned up this morning so I spent what little time I had this morning and rushed to get them finished so that I could show you them now. I made two. One set for myself and another for a young friend who I promised I would make something for. Here's a photo: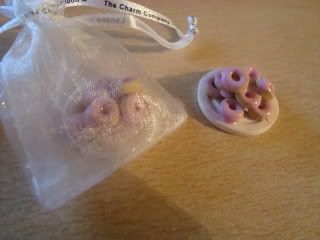 Yum, yum, yum! The plate isn't brilliant because I made that myself when I first started making things from clay.. I really should do a second attempt at plate making.
Now for the cross stitch. I've been wanting to do some miniature cross stitch for some time now, but I wanted to start off with something basic.. it seems I always want to throw myself in the deep end and I end up choosing a design far to complicated for myself.
So I was reading the November's AIM magazine and came across a pattern of a lavender. Very pretty. It's supposed to be a cushion, but I think I've use an aida too big for this as it seems quite big. It's going to be a pretty big cushion. Any suggestions welcome for alternatives to use this design as, if not a cushion.
Here's a photo: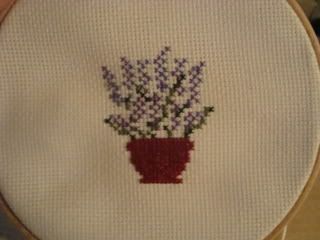 So tomorrow I have a day off, but I plan on catching up with a load of work I've got to do and by doing that I'll save myself some time for miniatures in the future.. yes? So depending on how tomorrow goes, I may/may not see you all tomorrow!
Anyways,
Happy mini-ing
ShellbyFay