On the 5th June 2013 I will be slipping into a hideous diving suit, getting in a plane, rising to 15,000 feet and then I'll be jumping out of it with some stranger on my back with our lives hanging on the threads of a parachute!
Honestly, I'm extremely nervous.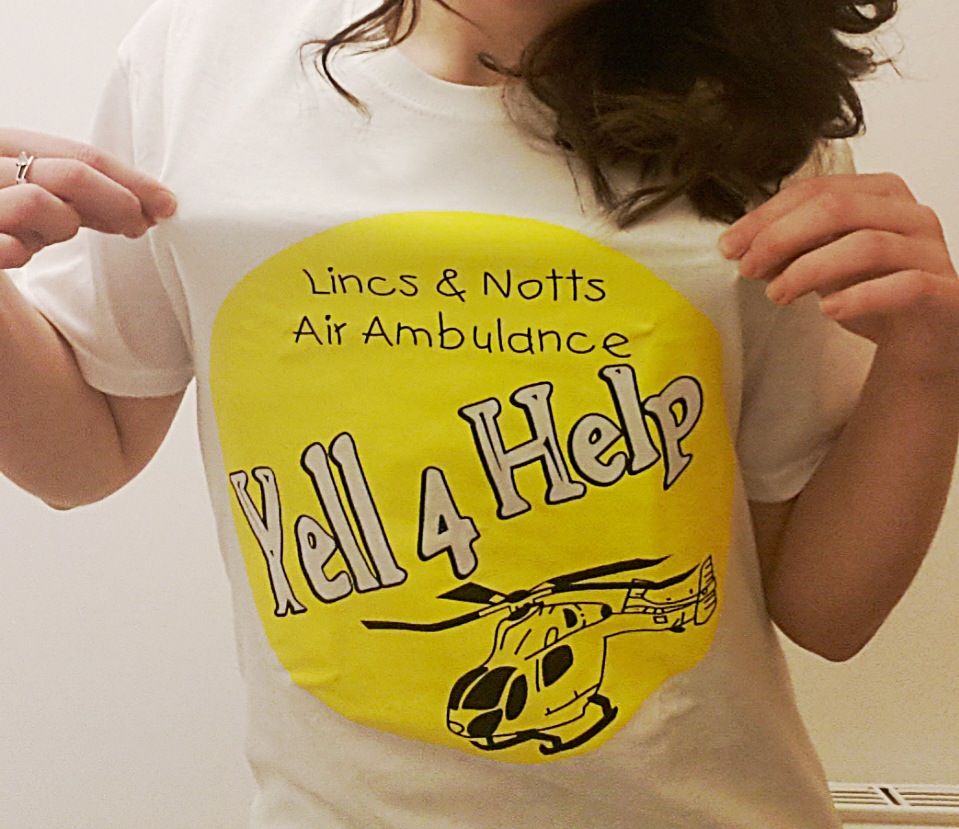 But it's an incredibly small amount of effort in comparison to the time, commitment and dedication of the Lincolnshire and Nottinghamshire Air Ambulance crew who work day in, day out to save the lives of our loved ones.
When I was 6, my Dad was involved in a fatal lorry accident. It was a head on collision with another driver who had fallen asleep at the wheel. My Dad did everything he could to avoid the collision, but sadly it wasn't enough.
My Dad was trapped in his lorry for several hours before emergency services could free him. His right leg was crushed and he was losing a lot of blood. The road ambulance crew knew they would not be able to get him to hospital in time to save him. The only option was the Ambucopter.
They flew my Dad to hospital, saving his life once already when he died in the sky. The entire team of Police, Firefighters, Paramedics, Doctors and Nurses saved his life that morning. They saved ours as a family. It seemed like months until I saw my Dad again.
I slept in my Mom's bed to keep her company at night when she returned from the hospital visits. I blame this incident for the reason I don't like chips. Chips, chicken nuggets and beans was the standard meal for me and brother whilst we were babysat by different friends and family members for weeks on end. I remember not knowing what was going on. No one seemed to know.
Finally, after much begging and pleading, Mom took me to see Dad in hospital. It was not long before Christmas. I remember driving to Lincoln Hospital looking at the Christmas lights in the streets. We went into a shop, I believe it to be Dunelm Mill, where Mom bought me a Sleeping Beauty towel. It's funny how you remember the little things.
But one big moment will be the first time I saw my Dad. I hid behind Mom because I was shy! It had been so long. His face had small cuts and bruises, his leg was in pot and raised to the ceiling on some kind of pully contraption. He had a clip on his finger, but he was smiling. I love my Dad. So, so much. Enough that I shared my profiteroles with him!
He was home for Christmas. I got a set of coloring pens and he let me decorate his pot with drawings. The next year he came back from another umpteenth hospital visit with some scary metal cage with pins. It looked barbaric. There was blood around the punctures where the pins were holding a metal plate in his leg in place. Because his leg had been so badly crushed in the accident, the surgeons had to replace his knee and shin with a metal plate. He had gazillions of staples and stitches he almost resembled a dummy from a dress makers!
Had it not been for the incredible work and determination of the surgeons, he would more than likely had lost his leg.
Almost 14 years on and he's walking about living life to the full. He still lorry drives for a living, as well as owning and running a pub with my Mom. His hobbies include motorbike riding and quad biking. He recently did a trip from Lands End to John O'Groats with some biker friends - going by the group name of Skankii Pigs...!
He may not be able to run, but he can still kick a ball around the garden.
He's also a very proud grandaddy to two beautiful girls - Destiny and Diamond.
He's my Dad and I could never imagine life without him. He's taught me everything I know. He's brought me up as a strong, capable young woman, determined to make the most of everything I work for and what's given to me. He's been there through the tough times - when I worried I might be a boy inside because I didn't have my periods yet (I was fine, they started two weeks later.), when I fell in love for the first time, when I was practicing for my driving theory, when I passed my driving test (he cried down the phone!), he was there when I bought my first and second car, he took me for a practice drive in the snow and ice down our lane (ice road truckers you ain't seen nothin' yet!). He stood by me for my prom. And I know he will be there to take me down the aisle.
This is not a sob story. It's a true story, from the heart, signed with tears. We all have one. We have all lost, or almost lost, people who are incredibly close to our hearts. We all do what we can, but is it enough?
I'm asking you please to donate as little as £5 to this cause. It is not a charity. It a necessity. Vital to our society.
Almost all of the income to fund the Ambucopter comes from charity work and donations.

The Ambucopter and the team receive no Government Funding!

£1.7 million is needed to fly the helicopter each year.

The Ambucopter travels at speeds of up to 154 mph to enable it

to reach a patient anywhere within the Lincolnshire and Nottinghamshire Region in just 19 minutes. This is because it does not have to negotiate

traffic, road works or pedestrians.

The ambucopter can then

get its patient to the nearest hospital in an average of 6 minute

s.
For more information on the Lincolnshire and Nottinghamshire Air Ambulance please visit the website
here
.
Thank you.
Thank you for taking the time to read this. Even if you cannot help, please post a link to your blog and encourage as many people as possible who may be able to help. There is a link on the right hand side of my blog to my JustGiving page. If you would like to help me further and spread the support around our blogging community, I can send you a code to enable you to paste this badge on your own blog page. This way people can access my fundraiser through your own blogs. As Tesco says,
Every little helps.
*The images of my dad's lorry, my dad and myself are my own, please do not copy.
*Images of Air Ambulance crew have been borrowed from the Air Ambulance website. and are not of my own, please do not copy without prior permission.