Hello everyone!
Blimey, it's been a while, has it not?! I'm sorry I haven't been here for a while, but real life has been getting in the way pretty badly just recently. Hopefully this weekend I've found myself some time to get some mini-ing done as I'm missing it so much!
I have a couple of things to show you this morning.
A few weeks ago I was making a trap door for the inside of Bruion. Making the trap door was simple enough, and if you would like a tutorial posting up on how I made this - just let me know! It's pretty self explanatory though by the photos.
Glueing the door into place, however, was the most tedious task going! I had to hold it in place for hours on end while the wood dried to the flooring and the string dried to the sides. If I moved just slightly, the glue untacked and I had to start all over! Eventually, I managed to find something that would hold it in place and it's been left like that for about a week. It's well and truly stuck now! Here's a few photos for you.
Please forgive the bad lighting!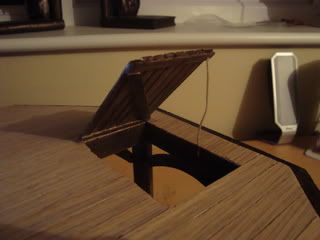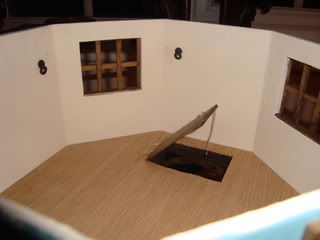 Those hoop hooks? Yes - there's another little something I'm in the process of making. I've made it once already, but I'm not happy with a part of it, so I need to tweak it until I'm happy. Then I can show you what the hoop hooks are for!
So anyways, in my depressed state last night - having finally snapped and deciding to forget real life and college for just a couple of hours, I went ahead and made a start of the "grass" effect for the downstairs of Bruion. Here's a photo: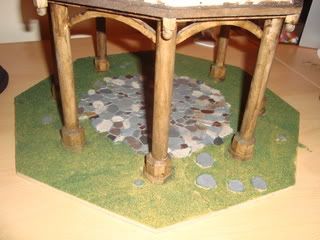 As you can see, I've finished painting the stones and I've added some stepping stones and random stones here and there. I still need to add a second layer of "grass" to thicken it up a bit but I'll get that done this weekend at some point, hopefully!
So there we have it. You now know I haven't dropped off the face of the Earth! I'm still mini-ing and I'm still making progress.. just slowly! Hopefully, I'll be back later on to show you some more progress!
Also - I still have my 20% discount going at Diddies! :D
Have a good day!!